NOTICE: Born today, November 14th, 1915, a daughter to Frederick and Francis Tilton of Corpus Christi, Texas. Their baby girl will be named Martha Ellen Tilton.
When Martha was three years old, her family moved to Edna, Kansas for a short time; then, in 1922, they settled on Laurel Avenue in Los Angeles. Her father worked as a banker in Los Angeles. and he did well (considering this was during the Great Depression), he soon moved his family to a nice home at 507 Highland Avenue in Los Angeles. This is the home Martha's parents lived in for the remainder of their lives and which Martha only recently sold.
The Tiltons were a close-knit family; aunts and uncles and grandparents all lived within a few blocks of each other. Martha's mother played piano and her father had a beautiful singing voice, and the whole extended family loved to sing whenever they got together. Some of Martha's favorite singers at the time were Ruth Etting and Connee Boswell.
Martha also had a younger sister named Liz who was born in 1918, whom Martha claims was even prettier than she (although it's hard to believe). Liz was also a talented singer, singing with Jan Garber's orchestra in the mid-1940s and also Bob Crosby's band; her recordings are rare, so we have included a few on this site for your enjoyment (see "Audio" page). When Liz's husband returned from WWII, Liz left the music business. Liz passed away a few years ago, in 2003.
While Martha attended Fairfax High School in Los Angeles, she met up with a girl friend who had an older sister dating a fellow from U.S.C. college. These fellows had a small band that performed on a local radio station. She went on to sing at the Ambassador Hotel's Coconut Grove with Sid Lippman's Band.
<![if !vml]>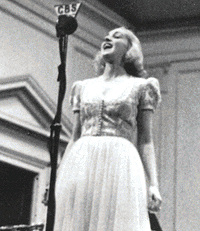 <![endif]>From Sid Lippman, Martha moved on to the Hal Grayson Band, where she performed for close to three years. While with Grayson, she married a Canadian boy named Dave Thomas--she was 18 at the time. This marriage lasted only a short time, but long enough for Martha to become pregnant. She gave birth to her son, Gerald, in 1936. Later that year, Martha joined a group called "Three Hits and a Miss" (obviously, she was the Miss).
In 1937, Martha joined the Jimmy Dorsey Band and spent a few months with that organization. During that time Dorsey recorded many records, but unfortunately, none included Martha.
Still in 1937, she appeared in her first movie, the Roland Young film "Topper," with Cary Grant and Constance Bennett. She had an uncredited part as a lounge singer, fronting the group "Three Hits and a Miss."
Besides appearing in the movie "Topper," Martha also appeared in the films "Irene," "You'll Never Get Rich," "Sunny," "Strictly In The Groove," "Crime Inc.," "Swing Hostess" and "The Benny Goodman Story." Her last film, "The Queen of the Stardust Ballroom," was made in 1975. Most of these movies are available for purchase online.
While with "Three Hits and a Miss," Martha was the first girl singer to sing four-part harmony with a pop group. About this time, Benny Goodman was in Hollywood filming "Hollywood Hotel" and became aware of Martha, and she was asked to audition to replace Helen Ward. Goodman seemed to be going through a lot of girl singers at this time. Martha later commented that the band worked 365 days straight for two years, with no breaks. With that kind of a schedule, one can see why some singers and band members might leave looking for easier work hours.
<![if !vml]>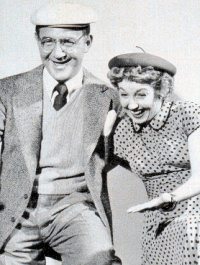 <![endif]>At her audition, Teddy Wilson accompanied on piano. In a twist, Martha noticed Goodman get up and leave the room during her second song. She immediately assumed he didn't like what he heard, so she left too, heading for home feeling very downhearted and rejected. She told her mother what had happened and cried all night.
But the next morning there was a phone call that gave her the surprise of her life; the person on the other end of the line asked, "Why did you walk out?" She answered, "Who wouldn't? Goodman left and that's why I did." She was informed that she was mistaken about Mr. Goodman's assessment, that Benny liked her and wanted to talk with her. She was hired the next day at $125.00 per week and two days later was on the band bus heading east for Texas. Martha didn't return home for two years after that.
During her years with Goodman, Martha made over 80 recordings--some really great, some pretty bad. According to Martha, Benny would record anything that came along, knowing his established popularity would make them hits. Unfortunately, performers like Martha who sang with a popular big band got little recognition. While she lent her beautiful voice to a recording (and without her voice, a song may not have been nearly as popular), Benny Goodman got the credit.
Early in her career with the Goodman organization, Martha was singing at the SunnyBrook Ballroom in Pottstown, Pennsylvania. When it came time for Benny to introduce her, he gave her a big buildup: "Here is a pretty gal from Hollywood that's really going places." But Martha missed her cue. When she didn't appear on stage, after a moment Benny ad-libbed, "She's not going places, she's already gone."
One of the biggest hits Martha had with Goodman was the song "And The Angels Sing." This tune was recorded on the spur of the moment, after the band had just come off a road trip. Johnny Mercer was still working on the lyrics as they went into the recording studio. After each take, Johnny would make changes and they'd do it all over again. Ziggy Elman, trumpet player, had a lengthy solo in the second half of the record; needless to say, after so many takes, his lips had taken a pretty bad beating.
After the song was put to bed, Martha commented to Harry James that this particular tune would never be a hit. Much to her surprise, she was wrong. "And The Angels Sing" is one of those songs that will endure forever and no one has ever sang it as beautifully as Martha. Of the many different recordings of the song she made over the years, I prefer the one done in 1955 with Capitol Records.
January 16, 1938 was a very special day; not just for Martha, but also for the Goodman organization and the wonderful music they brought to the world. That evening, the Goodman band broke tradition when they played swing music to a packed house at Carnegie Hall. Martha was 23 years old and must have felt a strong sense of fulfillment when she sang "Lock Lomond" and received the longest ovation of the entire evening. She also sang "Bei Mir Bist Du Schon." I believe this solidly set Martha as one of the great swing vocalists.
Martha's career with Goodman ended in April 1939, when the band broke up. This was bound to happen considering the rigorous schedule Goodman worked under. Also a number of strong solo performers had started out by working for Benny: Lionel Hampton, Harry James, Teddy Wilson, Gene Krupa, to name a few; they were ready to make their own marks on the music world. The remaining members of the band were saddened by Martha's leaving. Louise Tobin, who was then married to Harry James, replaced her.
It was while with the Goodman band that Martha met her second husband, Leonard Vannerson. Leonard was Goodman's manager and when he saw Martha he fell in love. It was not quite the same for Martha, for Leonard tipped the scale at a portly 200 pounds. She would kid him about his weight and before long he went on a strict diet, shed 50 pounds and won himself a wife.
The Tilton-Vannerson wedding was held in 1940 at the Wee Kirk of the Heather chapel in Forest Lawn. Her only attendant was sister Liz, while Benny Goodman stood as Leonard's best man.
Martha's next job was with Paul Whiteman's Philco radio show Hall of Fame at NBC. She also dubbed the singing voices for film actresses like Barbara Stanwick, Maria Montez, Anne Gwynne and Martha O'Driscoll.
During the early 1940s, Martha got her own radio show on NBC; this is where the nickname "Liltin' Martha Tilton" was conjured up. The nickname stuck with her ever since. Martha also did a number of recordings for Standard Transcriptions in 1941. These were made to supply radio stations with music during a large ASCAP strike. She recorded 17 songs during this time and another seven later.
Martha also sang briefly with Artie Shaw, recording two sides with his band, "Dreamin' Out Loud " and " Now' We Know."
In 1942, Martha's career really took off, when she was contacted by Johnny Mercer to join Capitol Records; Mercer had just co-founded the new label with Buddy DeSylva and Glenn Wallichs and Martha became their first signed artist. Unlike working with Goodman, Martha got to choose many of the songs she recorded at Capitol. There, she produced many of her hit recordings: "I'll Walk Alone," "A Stranger In Town," "A Fine Romance." "Connecticut," "I'll Remember April" (Martha's favorite song), "The Angels Cried," and to my ears the best recording of "And The Angel Sings."
It was in 1943 that Martha's son Jonathan was born. But she wasn't slowed down much. During World War II, in the years 1943 and 1944, Martha traveled with Jack Benny's U.S.O. Show to the Atlantic and Pacific Theaters to perform for troop morale. Carol Landis accompanied her on these tours. Then during the Summer of 1945 Martha traveled again with Jack Benny's U.S.O. Show for a short tour of Germany. This tour included Martha, Jack, Ingrid Bergman, and Larry Adler.
In the May 14, 1945 issue of Newsweek magazine, Martha was featured as the weekly pin-up, a feature added to the issues sent to servicemen. And what serviceman wouldn't fall in love with her after she sang, "I'll Walk Alone"? Unlike most pinups, who wore sexy attire, Martha was pictured in an evening gown and the warm beautiful smile she was famous for; a classic example of the "girl next door."
<![if !vml]>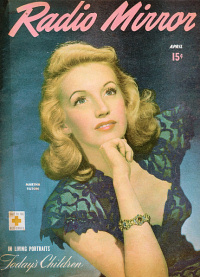 <![endif]>Martha was also featured in two magazine articles in 1946, one in Radio-Mirror READ and the other in Tune In READ .
In 1947, Martha's marriage to Leonard Vannerson ended in divorce; Martha retained custody of her two sons. Martha and her sons formed a close-knit family from that point on.
Leaving Capitol in 1949, Martha continued to sing on radio shows like The Jack Benny Show, The Bob Hope Show, and many more. She also recorded on smaller record labels like Coral, Crown, and Majestic. These fine recordings are becoming hard to find.
Martha and Curt Massey had a daily 15-minute radio show in the early 50's, sponsored by Alka-Seltzer. Many of these shows are available through various retailers on CD and MP3 format.
In 1955, Martha played herself in "The Benny Goodman Story," recreating their 1938 Carnegie Hall concert. Hollywood took its usual liberties, having her sing "And The Angels Sing," which was not performed in the actual concert; in real life, they wouldn't perform it for another year.
In 1952, at a U.S. Treasury Bond drive at a local North American Aircraft plant in 1952, Martha met the love of her life; a 6 foot tall pilot named Jim Brooks. Jim had been a World War II ace and was now a test pilot for North American. He was given the job of showing Martha around the plant; at the end of their tour, he ask her to dinner that evening. She accepted and it just kept getting better after that.
Very important to Martha about her growing relationship with Jim was how her sons felt about it. Jerry was now 16 and John was 10 and the two indirectly asked if she was going to marry Jim. This put her in a bit of a predicament; what to tell them. With out really knowing how they might react, she asked them if they thought she should. The answer came back an overwhelming "yes."
Her concern now was how a bachelor would handle being the instant father of two boys. This proved no problem for Jim; he adapted to the challenge quickly, and what American boy wouldn't want a fighter ace and test pilot as their new father?
In September 1953, Martha appeared in an article in Radio-TV Mirror READ , where she discussed her marriage with her fans.
Shortly after marrying, the lovebirds found a house close to both their work places, on Mandeville Canyon Blvd. in Los Angeles. They have lived there ever since.
Martha gave birth to their daughter, Cathy, on Sept 13, 1955. From this point on, Martha devoted most of her time to her family and pretty much ceased performing. She also devoted time to charity work, appearing in several PBS big band programs and doing a few big band tours both overseas and in the States. Her last tour was to Australia and throughout the United States in the mid-1990s with John Gary and Horace Heidt. She was honored in the Big Band Academy of America's "Golden Bandstand" at their annual reunion in March 1997.
Martha and Jim Brooks, married for over 50 years, enjoyed a healthy life together in their home on Mandeville Canyon Blvd. Jim eventually retired as an Executive Director with North American Aviation and they enjoyed spending time with their five grandchildren (her son, Jon Vannerson's children Elise and Spenser; her daughter, Cathy Smith's children Maura, Virginia and Jimmy). Martha also kept busy with her dogs and enjoyed needlepoint as a hobby.
Martha passed away on December 8, 2006, peacefully and in her home.
Martha and Jim had a true love of life; their marriage held true to the 1953 article written about them, it was "... Happily Ever After." Martha said she enjoyed her years with the big bands and is proud of the contribution she made to those great organizations. While she considered the pop music of today "not very good" to her ears, she was "very happy" with the revival of Swing music that is in, if you'll pardon the word play, "full swing."
On a personal note--in the months I knew Martha, I found her to be very knowledgeable and a witty, delightful lady. Her personality was bubbly and warm and together we hoped this project/website would be an asset to anyone studying music of the big band era. My only regret is I was never able to see her perform in her heyday.
-- Compiled by Tom Oehme (Updated January 10, 2016)
Martha Tilton's Obituary in LOS ANGELES TIMES , dated December 12, 2006.
Martha Tilton's Obituary in NEW YORK TIMES , dated December 13, 2006.
Martha Tilton's Obituary in NEW YORK SUN , dated December 13, 2006.
OUR ANGEL IS CALLED HOME
On December 8, 2006, the Lord looked down and brought one of His Angels home. I'd like to think He saw all these WWII veterans passing away and needed another singer for The Big U.S.O. Show in the Sky. He then gently put Martha to sleep so that she could join Him in this Grand Event.
Her sister, Elizabeth Tilton Hoffine, and her son, Gerald Thomas, precede Martha in death. Her husband, James Brooks, her son Jon Vannerson, her daughter Cathy Smith, and five grandchildren, survive her.
Martha had a long and interesting career. She not only sang and recorded over 350 songs, but had a long run on radio, television and even acted in a few movies.
I first made contact with Martha in December 2005, when I sent her a discography of her songs that I knew about at the time (which numbered over 200). I received a beautiful Christmas card from her, thanking me for the work I had done. She also stated that no one had ever done this for her. She gave me her phone number and asked that I call her. This lead to many conversations and eventually to the marthatilton.com web site.
She was always very warm and willing to talk. I most recently talked to her on her birthday, November 14. At that time, she was feeling tired and didn't have a lot to say. Her son, Jon, kept me informed of her condition and told me last week that she had become so weak they had to find 24-hour nursing care for her.
Although, I was never able to meet her in person, I feel I've known this truly wonderful lady for years. I have heard from many people that remember her outgoing personality; I recall hearing from one gentleman who worked backstage at one of her performances. He said she was the only performer that would come over and talk to him and thank him for what he was doing.
My deepest condolences go out to her family in this time of mourning. We trust in the words of Christ Jesus: "Believe in me and you shall not perish, but have everlasting life." With this promise, I hope to see this Angel Sing in the next life.
Tom Oehme, marthatilton.com
P.S.: Those wishing to send cards to her husband, James Brooks, or her children, Jon Vannersen and Cathy Smith, may send them c/o Tom Oehme, P.O. Box 220, Lititz, PA 17543-0220.